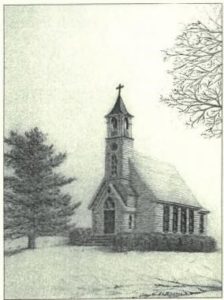 St. Paul's is a small church but our efforts are huge! We impact the local and global community. Come and see us for your spiritual growth and volunteer opportunity!
Join us for church service Sundays at 11:15 am on Facebook live, beginning September 12, 2021. We'll aternate Holy Eucharist and morning prayer service, in collaboration with St. Andrews Glenwood.
Priest In Charge -The Rev. Dina van Klaveren
Deacon – Amy Shimonkevitz
Deacon candidate – Jennifer Grimelli
Senior Warden – Jeff Spaulding
Junior Warden – Pete McIntosh
Treasurer – Linda Sharp
Registrar – Nancy McIntosh
Vestry – Stephen Jones, Kathleen Alexander, Ron Alexander, Phyllis Weston, Suzanne Bourg, and Wendy Gahm
Secretary – Lynda Sheckels -Office hours Monday through Thursday 9 am to noon – 410 489 4411
Our Mission: To carry the good news of Jesus Christ into the community by word and deed and to help all people experience God's presence in their daily lives.